Vintage Native American Turquoise Silver Sugilite Necklace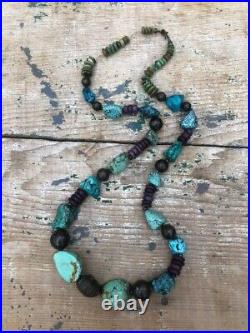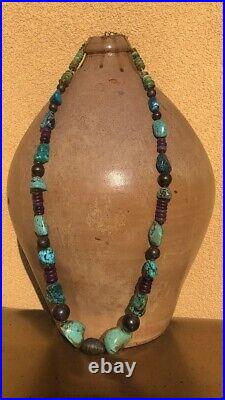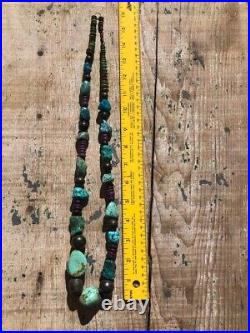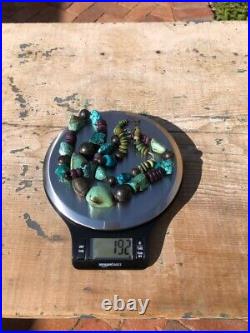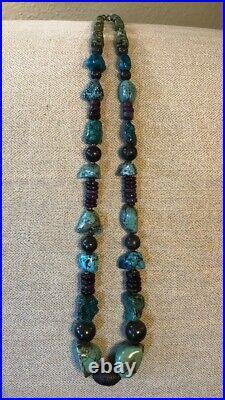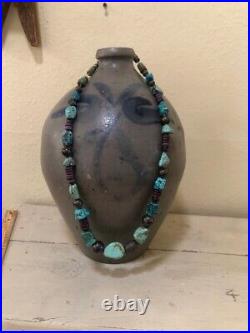 This exquisite piece makes quite a statement! Vintage Native American Chunk Turquoise andSugilite Sterling Silver Bead Necklace. Intage handcrafted long beadnecklace made locally in New Mexico. Variation in color from bright turquoiseto subtler aquas and greens, interspersed with purple sugilite and vintagesterling silver beads, makes this necklace extra rare. Sterling silver beadshave a lovely vintage patina but could be polished for an updated look if desired.
Sugilite and green and blue turquoise disc beads are graduated in size, witheach of the two largest turquoise stones being 1.25 inches in length. Necklaceis approximately 32 inches in length. Strand contains 10 spherical sterlingsilver beads from sizes10-17mm. Center oval sterling bead is approximately 25mmor one inch in length.
Weight of necklace is 192 grams! The perfectone-of-a-kind gift for yourself or a loved one!