Antique Vintage Sterling Silver Native Santo Domingo Pueblo Bead Necklace 25.5g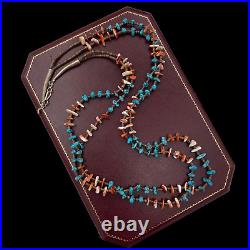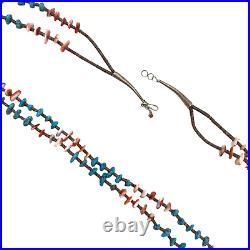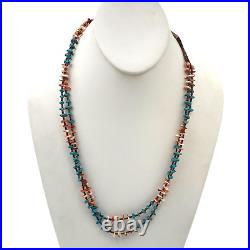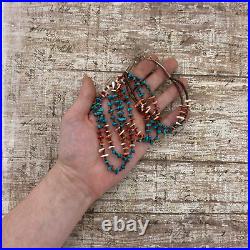 We have similar Native and Pueblo Santo Domingo items, which would pair nicely with this piece, for sale this week. Listing Description by: Angela A.

Markings: Unmarked, tested, and guaranteed. Length: 5.9 mm to 8.81 mm. Width : 3.52 mm to 4.72 mm. Color: opaque bright blue hue with a black matrix.

Accent Stone: Shell, spiny oyster. Shell: 2.09 mm to 2.31 mm diameter, 0.88 mm to 1.3 mm depth, opaque lighter and darker brown hue. Spiny oyster : 2.29 mm to 8.79 mm length, 2.1 mm to 6.54 mm width, opaque red and white hue. Stone Treatment: The stone(s) appear to be untreated, but we are not certified gemologists. Stone(s) have been tested and guaranteed using a professional Presidium Duo refractive, heat, and hardness tester. Stone Cuts: Polished shell heishi beads, tumbled and polished turquoise and spiny oyster beads. Handmade by a talented Pueblo artisan located in Santa Domingo Pueblo (now Kewa Pubelo), New Mexico, in the 1920s.

900 sterling silver, also known as coin silver. Features two strands of woven string adorned with a multitude of beautiful turquoise, spiny oyster, and shell heishi beads.

Each shell bead was expertly carved by hand. The turquoise and spiny oyster beads were tumbled and polished before being strung on the necklace. Finished with a hook and eye clasp for secure wear. There is minor wear to the edges of some of the shell beads, which does not affect wear. The price has been reduced to reflect this.

This listing is for the item only. This beautiful piece was made by a very talented Native American silversmith. It features handcrafted silversmith work throughout. Antique Native American jewelry is very rare to find. This is due to these pieces being made for reservation and personal use before the tourist trade became popular.

Very few pieces were made and even less survived to today. Kewa Pueblo, formerly known as Santo Domingo Pueblo, is located on the Rio Grande and is particularly known for Native Pueblo artists who create heishi necklaces made of bone, shell and turquoise beads, some of which are so finely cut that they almost look like strands of hair. These beautiful and colorful necklaces are also sometimes incorrectly identified as "Depression Jewelry", however their origin certainly predates the Great Depression, and they are still being made today by Kewa artists. Pueblo artisans are also quite famous for their inlaid mosaic-like pieces. The concept of Pawn, Old Pawn, and Dead Pawn Native American Jewelry came to be in the 1800s. When a loan wasn't repaid, the item became known as either "Old Pawn" or Dead Pawn.

Heishi, or Heishe (pronounced "hee shee"), are tiny beads that are disc-, tube-, and even sometimes square-shaped, originally made from shell that has been ground and drilled. In modern times, Heishi has come to mean any tiny hand-made beads of any natural material. Modern Heishi pieces include stone, wood, bone, nuts, eggs, and metal.

The oldest examples of Heishi date back to around 6000 BCE, to the Pueblo Native Americans, and is the oldest form of jewelry in New Mexico. The word Heishi means "shell" and ancient Pueblo artisans used many kinds of seashells that they obtained through trade with tribes in the Gulf of California; including spiny oysters, mother-of-pearl, and melon shell. Turquoise is found all over the world and has been a popular semi-precious stone used in jewelry and art for thousands of years by many different cultures; from prehistoric times to the present. Turquoise comes in many beautiful color variations; from the popular bright solid sky-blue hues to dark blue hues with dark spiderwebbing throughout, as well as aqua, teal, and many green varieties, and even some rare white with dark spiderwebbing.

Spiny Oyster is a beautiful natural stone that has a gorgeous light red to pink hue and is often substituted for natural coral in Native American jewelry. Spiny oysters are not true oysters but are more closely related to scallops. They are found primarily in the warm waters of the Sea of Cortez off the coast of Baja California.