Antique Vintage Sterling Silver Native Navajo Turquoise Squash Blossom Necklace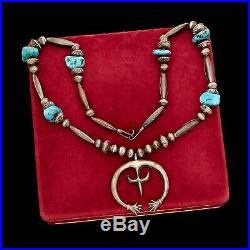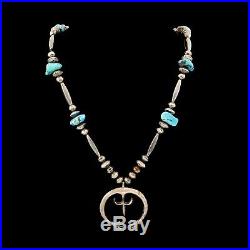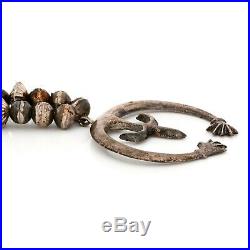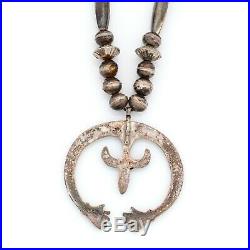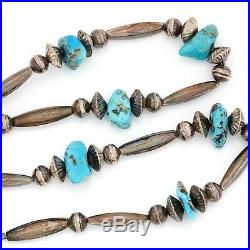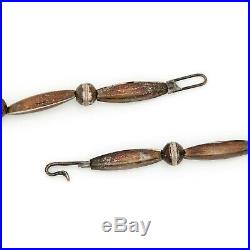 We have similar Native and Navajo items, which would pair nicely with this piece, for sale this week. Item Description by: Cait P. Age Circa: Antique Native Navajo C. Markings: Unmarked, Tested, and Guaranteed. Country of Origin: United States, Navajo Nation.

Gram Weight: 69.7 Grams. Main Stone Measurements/Color: 19.92 mm long, 7.75 mm wide, Opaque bright blue hue with brown spiderwebbing. Stone Treatment: The stone(s) appear to be untreated, but we are not certified gemologists. Stone(s) have been tested and guaranteed using a professional Presidium Duo refractive, heat, and hardness tester. Stone Cuts: Carved and Polished Cabochon. Item Measurements: The necklace has a wearable length of 22. The pendant measures 2.15" in length and 2.0" wide. Link Type: Sterling Coin Silver Bench Beads on a Snake Chain. Made during the Fred Harvey era in the 1950s. Made out of coin silver, a popular variety of silver amongst Navajo artisans prior to the 1960s. Perfect size for the modern Boho look. Unique squash blossom with hand-like designs.

When worn the necklace sits below the collarbone with the squash blossom pendant resting against the decolletage. This listing is for the item only. This beautiful piece was made by a very talented Native American silversmith. It features handcrafted silversmith work throughout. Antique Native American jewelry is very rare to find.

This is due to these pieces being made for reservation and personal use before the tourist trade became popular. Very few pieces were made and even less survived to today. The Navajo Nation sits on 27,000 square miles within the states of Arizona, New Mexico, and Utah.

The Navajo have a rich history and culture and have become known for creating some of the finest sterling silver and turquoise jewelry, incorporating their own traditional motifs with silversmithing. The squash blossom necklace is perhaps one of the most famous Navajo styles produced, along with turquoise inlay rings. Turquoise is an important stone in Navajo culture; symbolizing happiness, good fortune, and good health. The first Navajo silversmith, Atsidi Sani, was taught around 1865 by a Mexican silversmith.

Atsidi Sani, in turn, taught his four sons, who then started teaching other Navajo artisans. In the beginning, Navajo artisans created sterling silver jewelry for themselves and others in the Navajo Nation. The concept of Pawn, Old Pawn, and Dead Pawn Native American Jewelry came to be in the 1800s. When a loan wasnt repaid, the item became known as either Old Pawn or Dead Pawn.

Pre 1950s Navajo silversmiths would make jewelry out of US 90% Silver coins. They would use Half Dollars, Quarters, & Mercury Dimes.

This type of jewelry is very rare, as it usually contained a high silver purity and was expensive to make. Whole Coin jewelry was worn around the reservation as a status symbol of wealth.

The squash blossom design refers to the likeness of a bead or stone to the flower from a blossoming squash plant, which was a significant food source for the native Navajo. The design originated from Spanish contact with the Navajo many years ago. The original likeness of the design can be attributed to the pomegranate blossom of the eastern world and was adapted by the Navajo for their own use.

In many contemporary designs, the concept is still used, however, sometimes the design is highly conceptualized, and it is not obviously recognizable. A popular motif in Native American jewelry from the American southwest, the naja has a long history of use as a decorative ornament. While its origins are hard to place, a popular theory is that this distinctive crescent-shaped adornment was first created by the Moors of northern Africa, who then introduced it to Moorish-controlled Spain. When Spanish conquistadors arrived in the Americas, they, in turn, introduced the motif to the indigenous peoples. The Spanish iteration of this motif usually appeared on horse bridle headstalls or as a decoration on mens pants.

Navajo silversmiths called this decoration naja, translated as crescent and began to incorporate it into their jewelry designs. Naja are most commonly seen as pendants, especially on the elaborate squash blossom necklaces prevalent amongst Native American nations from southwestern America. Designs and styles of naja vary from silversmith to silversmith and amongst Native American nations, each creating their own version and interpretation of this classic motif.

Carved stones, intricate patterns, and varying shapes at the bottom ends of the crescent are all ways in which Native artisans have created their own, unique naja jewelry. A timeless motif with a fascinating history, naja jewelry is highly sought after by collectors around the world.

Turquoise is found all over the world and has been a popular semi-precious stone used in jewelry and art for thousands of years by many different cultures; from prehistoric times to the present. Turquoise comes in many beautiful color variations; from the popular bright solid sky-blue hues to dark blue hues with dark spiderwebbing throughout, as well as aqua, teal, and many green varieties, and even some rare white with dark spiderwebbing. Known throughout the world for its gorgeous true-blue hues mixed with a silvery iron pyrite matrix; it also came with a rare golden pyrite matrix. Also found were aqua blue-green. Turquoise stones with birdseye webbing, which are areas of color circled with matrix resembling a birds eye, and water webbing matrix.

This mine has been closed for several years, making Morenci Turquoise rare and highly coveted by collectors. The item "Antique Vintage Sterling Silver Native Navajo Turquoise Squash Blossom Necklace" is in sale since Friday, March 22, 2019. This item is in the category "Jewelry & Watches\Ethnic, Regional & Tribal\Native American\Necklaces & Pendants". The seller is "abeautifultimeco" and is located in Fort Collins, Colorado.

This item can be shipped worldwide.
Country of Origin: United States, Navajo Nation
Modified Item: No
Country/Region of Manufacture: United States
Ethnic Origin: Navajo
Metal Purity: .900
Main Stone: Turquoise
Metal: Sterling Silver
Jewelry Type: Necklaces
Tribal Affiliation: Navajo
Featured Refinements: Squash Blossom Necklace