Antique Vintage Native Zuni Sterling Silver Turquoise Knifewing Inlay Pendant 7g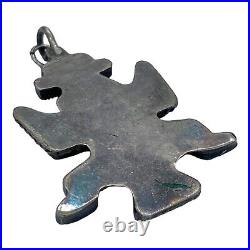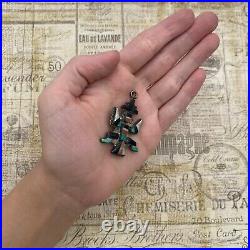 We have similar Zuni and Turquoise items, which would pair nicely with this piece, for sale this week. Listing Description by: Angela A. Markings: Unmarked , tested, and guaranteed. Length: 3.68 mm to 6.83 mm. Width : 2.09 mm to 4.13 mm.

Color: opaque bright blue hue with a pale matrix and lighter blue hues. Accent Stone: Onyx, mother of pearl, red coral. Onyx: 5 mm to 9.25 mm length, 2.5 mm to 7.4 mm width, opaque black hue.

Mother of pearl : 4.1 mm to 7.1 mm length, 1.3 mm to 5.5 mm width, lustrous white hue. Red coral: 4.45 mm to 8.3 mm length, 2.5 mm to 3 mm width, opaque red and mottled lighter red hues. Stone Treatment: The stone(s) appear to be untreated, but we are not certified gemologists. Stone(s) have been tested and guaranteed using a professional Presidium Duo refractive, heat, and hardness tester. Stone Cuts: Carved and polished inlay.

Bale opening measurements : 3.5 mm across. Handmade during the 1960s by a talented Zuni artisan. Features hand-cut and inlaid turquoise, mother of pearl, onyx, and red coral stones. These colorful stones adorn the motif of a knifewing man, a half-man, half-eagle warrior.

One onyx stone is missing from the pendant, which can be replaced by your local jeweler. There is wear to the mother of pearl.

Tarnish on the sterling silver can be removed with a buffing, if desired. The price has been reduced to reflect this. This listing is for the item only.

This beautiful piece was made by a very talented Native American silversmith. It features handcrafted silversmith work throughout. Antique Native American jewelry is very rare to find.

This is due to these pieces being made for reservation and personal use before the tourist trade became popular. Very few pieces were made and even less survived to today. The concept of Pawn, Old Pawn, and Dead Pawn Native American Jewelry came to be in the 1800s. When a loan wasn't repaid, the item became known as either "Old Pawn" or Dead Pawn.

The Zuni Nation is well known for their stone inlay work, mosaic-like images depicting religious and cultural motifs created from materials that were readily available. Their modern work is well known for its bold stone colors; often turquoise and coral are used. It is rare for their pieces to be signed, as the Zuni People believe artwork belongs to the entire community. Turquoise is found all over the world and has been a popular semi-precious stone used in jewelry and art for thousands of years by many different cultures; from prehistoric times to the present.

Turquoise comes in many beautiful color variations; from the popular bright solid sky-blue hues to dark blue hues with dark spiderwebbing throughout, as well as aqua, teal, and many green varieties, and even some rare white with dark spiderwebbing.