SITTING BULL cigar store indian statue vtg native american tobacco totem humidor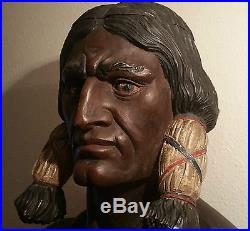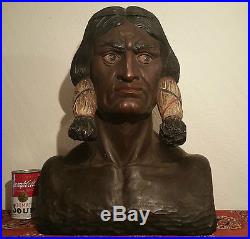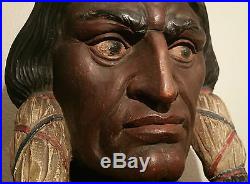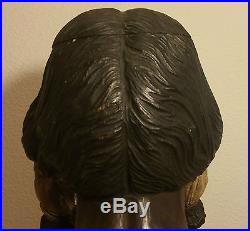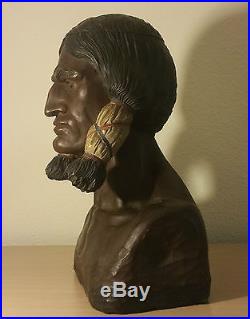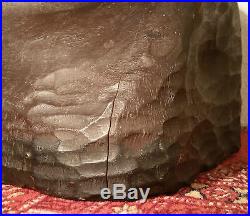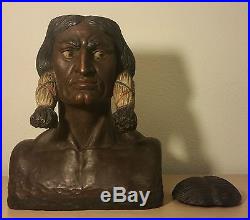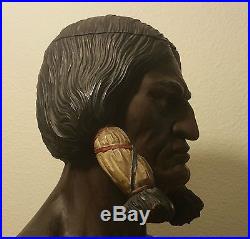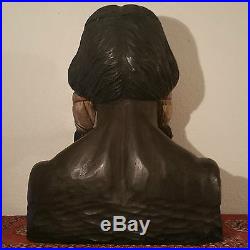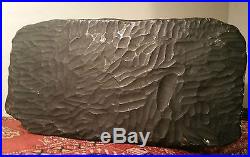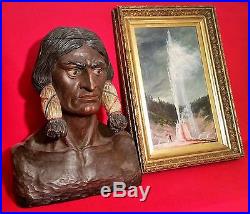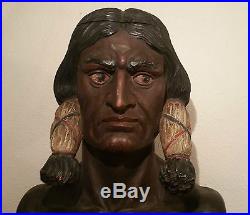 Life-size Cigar Store Indian Countertop Store Display. Pictured here next to a standard size 19th century tobacco humidor.

Early American folk art at it's very finest. We are attributing the carving to Samuel A. Robb of New York City who is best known for his cigar store indian & circus carvings. Cigar-shaped braids identify him as American Plains Indian. Chief Sitting Bull was one of the most photographed people in the World.

Those photos (always with both braids forward) were most certainly the inspiration for this bust: Sitting Bull, the fierce young warrior, as he would have appeared at the battle of Little Bighorn. Because of Little Bighorn, Sitting Bull went on to become the Star of a circus, Buffalo Bill's. The bigger-than-life, cigar smoking, Buffalo Bill Cody was the ultimate entrepreneur and boxes of Buffalo Bill, Col. Most notably through New York City's Foster-Hilson & Co. Located on the same island and just 3miles from the workshop of Samuel A.

O riginal paint, as it left the artist's studio. Online you can view close-ups of Robb's Lord Dundreary and it's a close match to this carving, the hair, etc, though ours, with his eyes full of life, menacing scowl and carved hairy eyebrows is far superior. But what most separates this carving from his Lord Dundreary, and all other trade carvings, is that they were given fresh coats of paint each year, losing the detailed carving. The original studio paint sets ours apart from all others (Santa aside). A tobacciana /circus crossover and true historic figure, superior carving and original paint: surely one of finest & most important Cigar Store Indians ever to reach a public market. Remarkable condition with minor dings and minor wear to the paint. Measures about 16 1/2 tall. The stash box/humidor is shallow at about 1 1/2 deep. We can meet anywhere in the greater Puget Sound area. There were a small number of late 19th century, 2nd generation, trade-figure carvers that could have carved this bust. Of those carvers, Robb stands out as the most logical choice. Original paint is unheard-of, Robb's Santa is a rare exception. And again, around the eyes our piece is far superior. Another possibility is Philadelphia, Pennsylvania : Sitting Bull toured with Buffalo Bill in 1885 but, out of respect for Custer's widow, Buffalo Bill didn't start reenacting the Battle of Little Bighorn (the death of Custer scene) until 1888. The Mercer Museum holds a weathered-outdoor Buffalo Bill'cigar store indian' and that carving very-much resembles our bust in that it is also.

Were they carved as a set? The Mercer believes their carving stood in front of a Philadelphia tobacco shop during Buffalo Bill's. Pennsylvania tour in 1899 and are attributing the carving to one of three carvers: Samuel H.

Sailor, James Brown or Francis Jacob Deker. Did our carving sit on the interior counter of that same store? The 19th century Yellowstone geyser painting seen in the photo above is not included in this sale.

It was painted in 1885 by an early American explorer on a very large & rarest cigar box lid. A five pound sterling silver " Bug Basket " from Buckingham Palace, the most-prized possession of the last reigning monarch of The Kingdom of Hawai'i, an artifact from The White House and Porcellian Club (the birthplace of Facebook), the first man to the moon's 1st appearance in Space and an authentic Witch coven's serving charger are but a few of our most interesting pieces. Presidents, a Prime Minister and other Heads of State, Middle Eastern & European monarchs, museums, movie stars, billionaire software & oil tycoons and the World's leading interior decorators & designers. The best way to view our store is by'highest prices first'.

The item "SITTING BULL cigar store indian statue vtg native american tobacco totem humidor" is in sale since Friday, April 14, 2017. This item is in the category "Collectibles\Tobacciana\Cigars\Other Cigar Collectibles". The seller is "wetinwashington" and is located in Tracyton, Washington. This item can be shipped worldwide.