Native American Vintage c. 1930's Navajo Yei Rug 54 x 27 ON SALE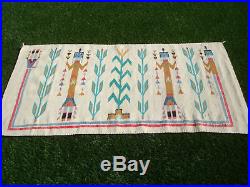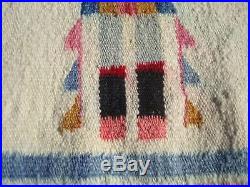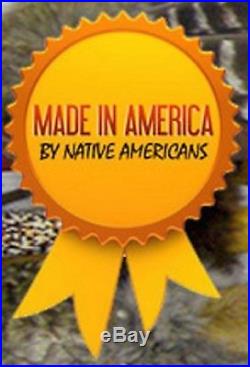 1930's Navajo Yei Rug 54" x 27" ON SALE. Interested in more than one item? Most of our items are Unique One-of-a-Kind and subject to availability.

So we do not disappoint you with a possible out of stock item. We guarantee a response within 24 Hours most times it is much quicker. Own A Piece of Navajo Native American History! Make me a reasonable offer and it's yours. A Gorgeous Navajo Hand-woven Native American Indian vintage textile, a lovely Navajo Yei rug, with vibrant and wonderful colors and design elements, Arizona or New Mexico c.

The Yei figures are wonderful! Size: 54 1/4 inches wide by 27 1/2 inches high. A basic familiarity with Terminology of Navajo weaving also is essential to the savvy collector as it is the only reliable way to authenticate Navajo rugs. Navajo Rug designs differ on the Reservation according to the region and clan who weave them.

Each rug is woven to include one small flaw in the final product in order that any evil spirits residing in the rug may have a way of escape. Every month or so I visit the trading posts on the Navajo Reservation and talk to the traders and weavers there and get great information and advice from them.

The more you know about Navajo weaving, the more you will enjoy collecting them. Warp strings are the vertical strings which serve as the foundation of the rug. Wool yarn is prefered because cotton warp strings may not tolerate rough use as a floor covering. Weft threads are the horizontal threads that cover the warp threads, or the yarn that is woven over and under the warp and from side to side. Wefts per inch are counted on both faces of a fabric.

When the wefts are counted on one side, this number is doubled, as there is a corresponding weft on the other side. It can vary at different parts of the rug.

The better the weaver the more consistent this will be throughout the rug. Most Navajo rugs have approximately 30 wefts to the linear inch. A weft count of 50 or more per inch is a very high quality rug. A count of 80 or more qualifies a rug as a tapestry. Two or more yarns that twist about each other while interlacing with and reinforcing a fabric's edge. In Navajo textiles, two 3-ply selvage cords are usually twined together, forming a 2-strand edge. In Pueblo fabrics, three 2-ply cords usually form a 3-strand, twined selvage. There are also other variations. A subtle diagonal break in the weave of many Navajo fabrics where a weaver has worked on adjacent sections of warps at different times; usually spaced apart no more than the length of the batten, lazy lines allow a weaver to weave a wide fabric without having to reach from side to side with each pass of the weft. Weaver's Pathway (Sprit Line). A small thin line that extends from the center design field across the border to the outside edge of some rugs; the line is frequently placed near a corner and made of the same color as the center field's background. Also called the spirit line. Associated with the belief of allowing the energy and spirit woven into a particular textile to be released in order for the weaver to have the energy and imagination to continue weaving other textiles. Thanks for looking and be sure to check out my store for more selections of authentic Native American jewelry and artifacts! If you like our products, please add me to your. List or consider subscribing to our. For updates on newly listed items, sales and special promotions! We would be happy to consider reasonable offers. These Rugs Are an Excellent Investment and do Appreciate in Value.

HIGHLY COLLECTIBLE PIECE OF ART AND GOOD INVESTMENT! Compare your own financial investments over the past ten years to investments in pieces of Native American Indian and Mexican art and antiques! WHAT A GREAT GIFT IDEA FOR THE NATIVE AMERICAN ARTIFACT COLLECTOR!

We understand the true value and nature of hand crafted Indian art. And, we recognize that it is important to know that the artist is truly a member of a Native American tribe. So, to ensure you that this is the real deal, a Certificate of Authenticity will be included with this item. I dislike having to do that, so please pay promptly. We are aware of your concerns in regards to the condition of your art work upon arrival. We use safety and care every step of the way in packing and sending your items to you. We do not falsify claim forms. We aim for five star service and want you to be happy - period. International Buyers are willkommen, bienvenue, ???? We fell in love with Native American jewelry many years ago and really appreciate the true craftsmanship that goes into the making of a piece of genuine Native American jewelry art! That is why we chose to partner up with some of the oldest and most reputable Trading Posts in the Southwest who deal directly with the Native American artisans to bring you a large selection of authentic Native American products. These artisans come from the Navajo, Zuni, Hopi and affiliate tribes on the reservations all of which our close to our home and office, so you can be assured that all our Native American products are authentic! Most of our items are One-of-a-Kind and subject to availability. We try to keep our listings up to date, but may occasionally miss one.

In some cases, we can have one custom made with a two week lead time. If you like our products, please add me to your FAVORITES list. This is very important to Both of us. It lets us know that you have received your item and are happy with it.

As soon as we get feedback, it leaves you feedback in return. We are always adding new items. The item "Native American Vintage c. 1930's Navajo Yei Rug 54 x 27 ON SALE" is in sale since Wednesday, May 11, 2016. This item is in the category "Collectibles\Cultures & Ethnicities\Native American\ US\1935-Now\Rugs & Textiles (Navajo)". The seller is "elkcreektradingllc" and is located in Kykotsmovi Village, Arizona. This item can be shipped worldwide.
Tribal Affiliation: NAVAJO