Native American TURQUOISE CHARM BRACELET / NECKLACE Green Vintage Squash Blossom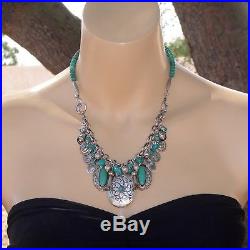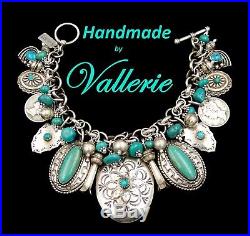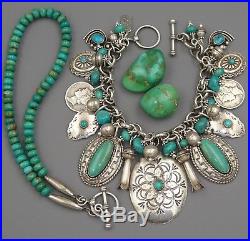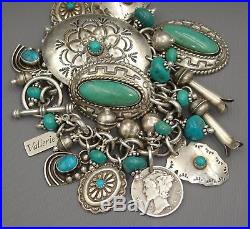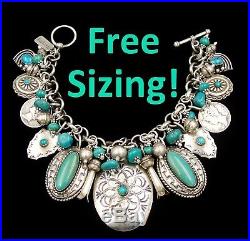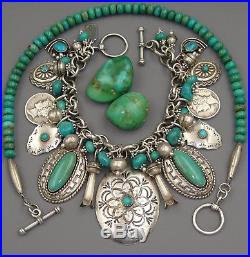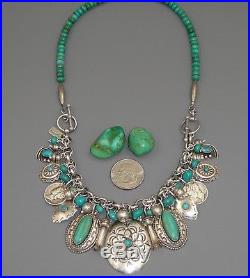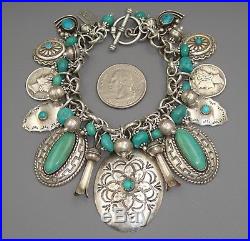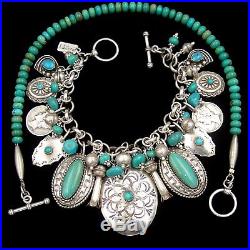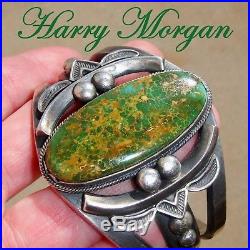 Please See ALL 12 Photos! Please be SURE to See my OTHER. ESPECIALLY if u LOVE GREEN TURQUOISE! Old Pawn Zuni CORAL Cluster Cuff. Genuine PERSIAN Turquoise Squash Blossom. Vintage Old Pawn Navajo Charms.

A Beautiful, VERY Wearable Bracelet... This BEAUTY will Compliment other Pieces.

In your Southwestern & Native American Jewelry Collection! Without DISTURBING INTEGRITY of BRACELET in. Way, & you STILL keep ALL your CHARMS, EVEN if sized much SMALLER! "Wearable Length" a bit Less, as Charms, Rings to attach them, Bracelet Links, the Beads, all will make a difference in actual FIT. At the Length as it is. Its ideal for Wrists that measure approx. A more Relaxed Fit on a. If you need it Sized- I can Size it. UP as Large as you Need, OR DOWN as SMALL as you need. Gorgeous Turquoise combined with Beautiful Old Pieces! If you are a Lover of Green Turquoise & Vintage Navajo Jewelry- then THIS most definitely is the bracelet for YOU, Ladies!! This Charm Bracelet is truly GORGEOUS.. You'll NOT be disappointed..

As this one has PLENTY of both TURQUOISE AND STERLING!! It has the most Gorgeous Shades of Green to Blue Green Turquoise you ever did see, OVER A FULL DOZEN Beautiful Pieces- an assortment of FABULOUS OLDER CHARMS, and almost a DOZEN Bench Beads in a variety of Styles & Sizes in the Set- 9 on your Bracelet, & 2 Pinion Beads on your Necklace Extender, as well as a Secure, EASY TO USE Sterling Silver Toggle on both the Bracelet AND the Necklaces!! The Toggles PERFECTLY MATCH each other, giving a more SEAMLESS Connection when you choose to wear your Bracelet as a NECKLACE!!!!

Truly a QUALITY Handmade piece of Jewelry, one I'm sure you'll wear often! With MY Bracelets, you NEVER have to wonder if they are Genuine Turquoise & Sterling, EVERYTHING is TOP NOTCH, made with ALL STERLING - this includes the Bracelet, Jumprings, Head Pins, Spacer Beads, Bench Beads, TOGGLE Clasp, holding Gorgeous Old Pawn & Vintage Charms!!! Obviously- the 2 Vintage Mercury Dime Charms are coin Silver, instead of. 925 Sterling- since they were made during the Era when they had much OODLES of Genuine Silver in them- but a commonly seen Design in Old Navajo Jewelry & absolutely BEAUTIFUL!

Find any of those dreadful imported Inlay Pieces (that are being represented as Native American made) on any of MY Bracelets, either! There are 2 Southwestern Pieces, 2 Large Green Relios pieces that due to their design have plenty of "Tinkle"- so you most definitely can not sneak up on anyone with these 2 Charms.. If the Tinkle is an issue, I would be glad to change them out for you.

Much care is taken in making each one of my creations, from the time spent specifically looking for EACH individual charm for each individual area, to re-purposing their backs if needed. I create my bracelets where they are not only quality made, but aesthetically pleasing & beautifully balanced... I create UNIQUE pieces, & always add Charms that beautifully Blend with each other as a group- but still be.

You'll NEVER see any of my bracelets with everything all the same, never any "theme" Bracelets- but loaded with authentic UNIQUE Navajo pieces. Also- another one of my "pet peeves" has always been to see Bracelets (or Necklaces) that are made with Bright Shiny Sterling pieces mingled in with Ultra DARK Old Sterling pieces!

I make SURE that mine have a beautifully balanced patina.. For example- on THIS Bracelet, ALL of the Charms were GENUINELY old with a NATURAL Dark Patina, so I made sure to "Age" the Newer Squash Blossom Charms to match them- as well as the Sterling Link Bracelet- I "Aged" it to match the Charms, as well as the Toggle Clasps, too. There is definitely an art to adding a Patina so that it looks Natural, (as well as very time consuming), but it's BEAUTIFUL when done properly...

NEVER any unsightly Black Splotches! I PERSONALLY HAND MAKE ALL MY CHARM BRACELETS. I purposely search for each piece myself, hand wrap all the Charms, oxidize any sterling when needed, re-purpose when needed, do all photos, write the detailed Listings.. Obviously since I put so much work into my bracelets- they are a TRUE "Labor of Love"... I take MUCH pride in my work- & why I have nothing but VERY happy buyers for many, many years of making them...

This Gorgeous Turquoise Old Pawn Beauty is the TOTAL Package. A luscious Patina, BEAUTIFUL TURQUOISE, as well as the Option to Wear it as a NECKLACE, TOO!

Lots of Pretty Detail with the Sterling Spacers & Tiny Round Beads, just OODLES of Sterling in this Handmade Beauty, & LOADS more Sterling to put it ALL together... 2 DOZEN Sterling Head Pins to make the Hand beaded Charms, 2 DOZEN Small Sterling Round Beads, approx. 2 1/2 DOZEN Sterling Silver Spacer Beads, and approx. 3 DOZEN STERLING SILVER JUMPLOCK Brand LOCKING Jumprings that attach all your goodies onto this treasure- Please Note there were a couple of areas where I had to opt for a Larger Oval Jumpring instead- but still Secure, AND AN EVEN HEAVIER GAUGE OF STERLING on the Ovals!! A GORGEOUS, & Super Unique Piece of Jewelry to add to your Collection.. And I know you hear this all the time- (so I hate to even say it)- but it TRULY IS One of a Kind- and the photos NEVER do them justice!! It's always been difficult for me to capture the true color of the Stones, but I'm confident you'll be able to tell by the photos that this one is really has a unique charm about it, and is really something special! Beautiful Charms on this one, Gorgeous Charms surrounded by VIVID GREENS & GREENISH-BLUE TURQUOISE! The Patina is deeper in stamped & recessed areas, but still shimmers, so it is the PERFECT shade to wear with your Older & Newer pieces, too. I selected a Gorgeous Old Hand Stamped TURQUOISE CONCHO Pendant for the Center, it has an AMAZING Blue-Green Cabochon that was absolutely PERFECT for the look I was going for with this one!

It has pretty intricate HAND Stamped Detail on the Face of it- and also a slight Repousse design surrounding the stone, with a NATURAL PATINA! On each side of this fabulous Pendant are GENUINE STERLING Squash Blossoms.. These were New by Navajo Lenora Garcia, & I added a "Vintage Patina" to them so they would better match the Vintage Charms- and they are not the black "splotchy" look- they genuinely look OLD.

These beautiful Squash Blossoms lend lots of Shimmer & give it more of a Traditional look. Beside those on the EACH SIDE. MY FAVORITES ON THE BRACELET. The Large Oval Relios Turquoise Conchos that have a PHENOMENAL Geometric stamped design. These are domes, but SOLID BACKS- so THAT is where the "TINKLE" comes in:!!

Next on both sides- Sterling Silver Handmade Turquoise ARROWHEAD Pendants with an adorable Stamped design... Next- CLASSIC MERCURY DIME CHARMS- one is 1932, & the other one is from 1944!! Next on BOTH Sides- super old Turquoise Pendants. There are numerous Bench Beads is various Sizes interspersed along the Bracelet, as well as LOADS of Beautiful GREEN to BLUE GREEN Turquoise.

ALL of these treasures hang elegantly from below the Sterling Round Link Charm Bracelet. I combined various Shades of Greens & Blue-Greens when making the Hand beaded Charms- as well as on the Necklace Extender, giving it a more "Colorful" look, & the end result was Breathtaking- plus it will blend with even MORE of your existing Turquoise pieces in your collection!! LOADS of Goodies on this gorgeous Handmade Bracelet- unless you know what the Charms, Findings, & GENUINE Turquoise Beads cost, you really have no idea of the Value of your Bracelet, .. I made THIS Bracelet using Vintage Earrings, Pendants, Bracelets, Necklaces, etc. PLEASE NOTE that while I created this out of "Re-Purposed Pieces", that it DOES NOT mean it is scrap NOR junk in ANY way.. TASTEFULLY re-purposed so that there all areas that have been altered are smooth to the touch, NEVER any Jagged, sharp areas, & in most instances, you'll never even know they were ever anything else but the Charm to begin with! I want it to be COMFORTABLE to wear, NOT be a Safety Hazard! The Charms are Gorgeous & ALL go SO PERFECTLY together, too. This Beauty really IS perfectly balanced & wears VERY well, it literally WILL last you a Lifetime! This one in particular is the best of both worlds.. A good one to throw on with Jeans, or when you are getting just a little more dressed up, too! It's VERY COMFY, NOT TOO WEIGHTY, and the Pieces are NOT outrageously Long.. it's Comfy, Classy, GORGEOUS, & VERY wearable!! ALSO- Please DO NOT EVER be embarrassed to request anything, if it is important to YOU, then it is important to ME- if it is possible, I will HAPPILY oblige, no problem!! I have learned that while someone may absolutely LOVE something, there may be 1 tiny little thing they wish was different, & most feel that since it is a handmade item, that it would "offend the artist" if a change request was made.. But DO NOT WORRY, I PROMISE YOU, I would MUCH rather "tweak" it HOWEVER needed to better suit YOU & KNOW you are 100% satisfied, than have a customer that was not 100% COMPLETELY HAPPY! BE SURE TO SEE MY FEEDBACK to read comments from Happy Buyers! With the Bench Beads, & all the other Sterling Pieces, there's lots of wonderful "Jingle-Jangle"- even more so on this one than usual- and again, the 2 that make the Jingle sound can be changed if you do not want this- I personally LOVE it. The Link Bracelet began as a NEW, Sturdy Sterling Round Link Bracelet, & I oxidized the Sterling so that it would blend better with the Vintage Charms!!

ALL CHARMS on THIS one have a NATURAL PATINA- except for the Plain Sterling Squash Blossoms near the Center- again- I TASTEFULLY added an Antiqued Patina that appears Natural, so they would better match the truly Older Pieces! This WONDERFUL HIGHLY DETAILED Hand Made Charm Bracelet is FILLED with Highly Collectible Native American NAVAJO & Southwestern Pieces that are the ULTIMATE in Southwest Style!

There is to choose from... Attached to one end is an attractive little Sterling Tag that is stamped with my name, "Vallerie"!! An heirloom quality, one of a kind Masterpiece that is FILLED with the best, & will only INCREASE in Value as time goes by!! Not to mention MANY days to do it! Do NOT Miss out on this BEAUTIFUL Sterling Silver & Turquoise Charm Bracelet with Vintage Navajo Charms, and Necklace Extender to wear it as a Necklace, too... To Contact me if you have. Questions regarding any other options, details, preferences, switching out, etc. Or anything else, or even if you would simply prefer to have it transformed into a Necklace Permanently!

In other words, you can contact me about ANYTHING!! Soooo, if there are any changes that you'd like to make, please don't be afraid to ask! ALSO, all of my work on my Bracelets have a LIFETIME GUARANTEE! Please contact me if you have any questions!

Sterling Native American made Charms, Hand beaded Charms, just an IMPOSSIBLY GORGEOUS Jingly Jangly Sterling Silver & Turquoise Charm Bracelet! I have SEVERAL customers tell me after purchasing them, that this pleasant little "Tinkling" sound, always seems to brighten their day in some way.. They say it always seems to bring back fond memories of their childhood for some reason when they wear them, too!! I don't know about you guys, but with there being so many bad/negative things in the world today, I happily welcome. That causes even 1 additional happy thought, or may make me Smile a little more each day!!

Hues of Vivid Turquoise, ALL GENUINE Sterling Pieces- some with a SUPER Sweet, Darker patina, while others still have a bit of a shimmer.. With both your OLDER & NEWER Native American & Southwestern Pieces! And REMEMBER: I can SIZE to Fit ANY SIZE....

Check Back Daily for MANY MORE fabulous Items!! LOADS of Native American, Pieces by Federico, Joan Slifka & MORE!

I pride myself on listing Beautiful, timeless pieces of high quality, with HONEST & detailed listings. Don't let it GET AWAY! If you have ANY other questions, JUST ASK!

Thanks so much for viewing this Wonderful Collectible! I'll pack your item. SUBMIT PAYMENTS WITHIN 3 DAYS. Unpaid Item Reports WILL be filed for all Payments OVER 4 Days Late that did not have Prior Approval.

If there is some urgency that requires a Faster Method than PRIORITY, (which generally only takes 2-3 Days), please let me know IN ADVANCE. This will prevent you from having to checkout TWICE. BE SURE TO READ DETAILS THOROUGHLY!

THE MAJORITY OF THE ITEMS I SELL ARE VINTAGE. THEY ARE NOT IN NEW CONDITION, THEREFORE DO NOT EXPECT THEM TO BE. I ALWAYS POST THE MAXIMUM AMOUNT OF PHOTOS, & DO EXTENSIVE DESCRIPTIONS IN MY LISTINGS. BECAUSE OF THIS, I FEEL THEY ARE DESCRIBED ACCURATELY, & WHAT, IF ANYTHING, I DO NOT DESCRIBE..

THE PHOTOS CLEARLY SHOW THEMSELVES. IF YOU DO NOT ACCEPT THESE TERMS, PLEASE KEEP IN MIND AUCTIONS ARE AN OPTION & NOT MANDATORY, YOU ALWAYS HAVE A CHOICE! IF FOR SOME REASON I GROSSLY MISREPRESENT ANYTHING I SELL, I WILL MAKE SURE YOU ARE HAPPY IN THE END.

ANY OTHER DOUBTS- JUST SEE MY FEEDBACK, IT SPEAKS FOR ITSELF! IF YOU ARE THE TYPE THAT LIKES TO SEND THINGS BACK FOR NO REASON, PLEASE, BY ALL MEANS, KEEP MOVING... THAT IS COMPLETELY OUT OF MY CONTROL! SO AT ANY TIME YOU HAVE ACCESS TO IT, JUST CONTACT ME IF YOU NEED IT & DO NOT ALREADY HAVE IT! PLEASE READ MY FEEDBACK AS A VALIDATION OF MY INTEGRITY.

The item "Native American TURQUOISE CHARM BRACELET / NECKLACE Green Vintage Squash Blossom" is in sale since Tuesday, October 30, 2018. This item is in the category "Jewelry & Watches\Ethnic, Regional & Tribal\Native American\Bracelets". The seller is "blondval" and is located in ARIZONA . This item can be shipped to United States.
Jewelry Type: Bracelets / Charm Bracelets / Charm Necklace
Metal: Sterling Silver
Metal Purity: .925 / Sterling
Main Stone: Turquoise / Green / Blue-Green
Country of Origin: US
Tribal Affiliation: Navajo / 2 Southwest
Material: Sterling & Stone
Artisan: Various Navajo Artists- WT Focal Most Old Unsigned
Ethnic Origin: Navajo
Signed?: Yes- some
EARRINGS, NECKLACE EXTENDER, & BRACELET!
OLD PAWN / Vintage Pieces: Navajo Charms + 2 Southwest Pendants